Unify your business—from data to people to processes—with Dynamics 365 for CRM -an intelligent business applications that adapt to your changing needs
'The State-of-Art CRM every organization needs'
Give your business what it needs to succeed
'Earn customers for life'
'Deliver exceptional customer experiences at every interaction'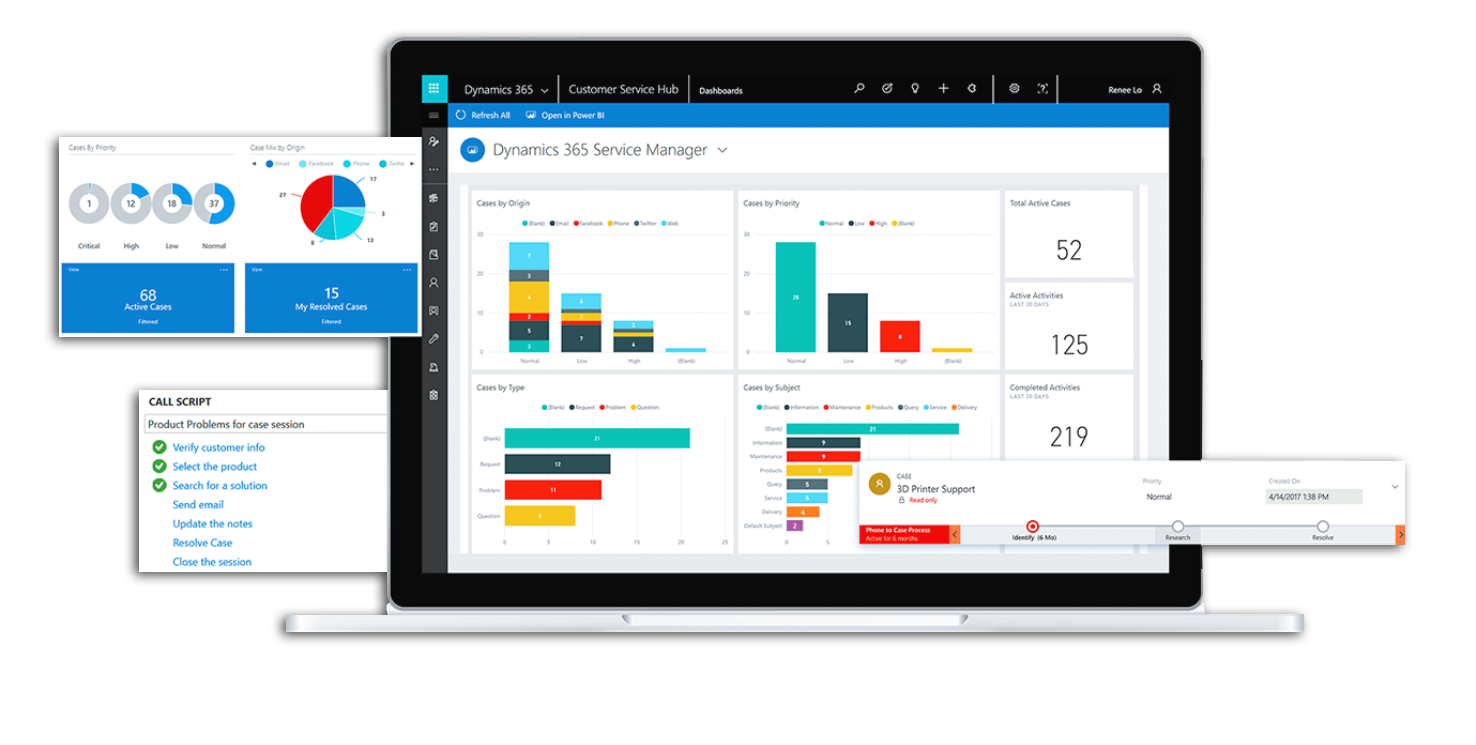 CRM solutions increase your profitability by streamlining administrative processes in your sales, marketing, and service divisions, and letting you focus on building and maintaining the customer relationships that matter. A strong CRM solution is a multifaceted platform where everything crucial to developing, improving, and retaining your customer relationships is stored.
Enable smarter selling with embedded insightsExceed buyers' expectations by empowering your sellers with actionable insights during every phase of the sales journey.
Empower sellers to build relationships with authentic and personal engagementHelp your sellers find and build relationships with the right buyers through better connections. Achieve relationship selling with unified processes and data across LinkedIn Sales Navigator and Dynamics 365 for Sales.
Boost seller productivity with seamless toolsCombine sales force automation with familiar and cohesive tools to streamline sales execution and support the way sellers work-even while they are on the go.
Improve sales performanceWith sales force automation, get visibility into sales performance with analytics dashboards based on historical and predictive data. Onboard and motivate sellers to improve their performance through sales contests that promote teamwork and accountability.
Get additional AI-driven insights to grow salesEmpower your sales organization with actionable insights from Microsoft Dynamics 365 AI for Sales to drive personalized engagement and make proactive decisions.
Innovate with sales solutions built to evolveDrive innovation with adaptable and scalable sales solutions that are easy to tailor, extend, and connect to other applications and services you already use.
Built-in intelligence BI delivers faster, more personalized service and adds value to every interaction, even on the go
Enage with customers on any channel or deviceDeliver effortless experiences on your customers' terms, through any channel and on any device.
Deliver fast, personalized serviceMake it easy for agents to meet rising customer expectations. Intelligent processes guide agents to the right action every time.
Learn from every interactionContinuously improve while reducing the cost to serve using data and intelligence to transform how you provide service.
Get additional AI-driven insights to improve supportEmpower customer service managers with actionable insights to improve the service experience.
Innovate with a modern and adaptable platformDrive innovation with an application that is easy to tailor, extend, and connect to other apps and services you already use.