Cloud server hosting, private and public alike, is the next big thing in the world of web server hosting!
AP&T is a hosting provider that is hugely popular and is well-known to offer the best cloud hosting services. AP&T Could Hosting plans are offered in 3 types, Public Cloud, Private Cloud, and Hybrid Cloud.
What is Cloud Hosting? Cloud hosting is also termed as clustered hosting. It's a hosting service that is carried from a network of multiple and physically connected servers. Cloud hosting is a new form of hosting. It allows the users to host their websites in a more powerful, reliable, and scalable way.
The Key benefits of choosing AP&T Cloud Services
Access business applications from a browser, even Legacy (VB, propriety tech, etc.)
Enables Single Sign-on, & BYoD for the organization
Provides better security from Security Hacks like Ransomware, etc, Therefore, choose the right cloud hosting provider. Choose AP&T.
AP&T specializes in provisioning and building customized solutions tailored to individual customer's unique requirements. We use best-of-breed monitoring, management, support tools, and systems designed for Enterprise Managed Hosting solutions.
AP&T is a trusted advisor committed to ensuring the long-term success of our customers' business applications and technology strategies. We have our infrastructure deployed in Dubai UAE. AP&T's delivery strategy focuses on technologies, people, processes, and best practices that are in line with our customers' desired need for Service Excellence for their customers.
AP&T Cloud Solutions
Reach New Levels of Performance and Scalability with CLOUDHOST's Fully Automated Infrastructure as a Service (IaaS) Solution.
AP&T can help you stay agile with solutions that are designed to meet your business needs. CloudScales is an IAAS solution; a cloud platform for provision, resources and servers.
This solution empowers you to select the compute power, memory, network, and storage that fit your business needs and we'll combine them into a pool of resources that provides you with a comprehensive suite of private cloud services.
Top Features
Improved performance
Self-service platform
Complete control
Security
Easy pricing
Compliant with industry standards
Build your own data center in minutes
Complete migration support
Managed services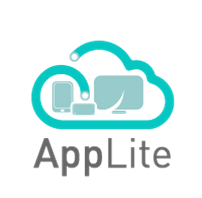 AppLite, is an application delivery platform, delivers a seamless experience by bringing any application to the user in 30 seconds in this dynamic era of mobility and cloud.
AppLite enables SMB's to avail the enterprise grade technology at a fraction of the cost. AppLites's uniqueness addresses the need of moving business applications away from the desktop-bound software (installed on local server and accessed by users) to the modern cloud way, where applications work across all types of networks, and locations beyond the confines of the physical workplace.
AppLite has the capability to make any application including customised and legacy applications seamlessly available on any device, and that too on a user-based pricing model. The Platform is completely flexible to any level of infrastructure customization as demanded by the Application or the infrastructure compliance requirements. AppLite is powered by AutoScale infrastructure supported by the CloudScales Platform. This brings complete peace of mind to the user as well the IT Department without worrying about capacity or any infrastructure requirements.
CloudVault is a cost-effective business continuity solution which can scale to the needs of any size business, large or small.
CloudVault puts you in charge of your backup and disaster recovery regime, with simple to use dashboards and incremental scheduled services.
Research suggests that four out of five small businesses are not prepared for data loss, and 60% of SMBs which suffer data loss close within six months.
In addition to storing your backups at our highly secure datacenter, AP&T can provision a local storage appliance as part of a Vault Express solution which can increase the frequency of backups, and reduce bandwidth requirements.
Your entire business infrastructure replicated for restoration on demand. With DataLife – Disaster Recovery from CLOUDHOST, you will have a cast-iron contingency plan that will keep your enterprise up and running no matter what.
We all know the importance of maintaining an up-to-date backup of important data, because no matter how reliable your IT infrastructure is, it's never immune to failure.
Disk corruption, power failure, malware attack: in the event of an IT incident, how quickly can you access your back-ups, and restore your operating environment to full capacity? Hardware failure isn't the only reason you need disaster recovery. In one recent ransomware attack in the US, a hospital found it was cheaper and faster to pay the ransom than try to restore untainted data from its backups – would your organization fare any better?
DataLife protects you against every eventuality, with carefully constructed contingency planning and multiple layers of fail safes.